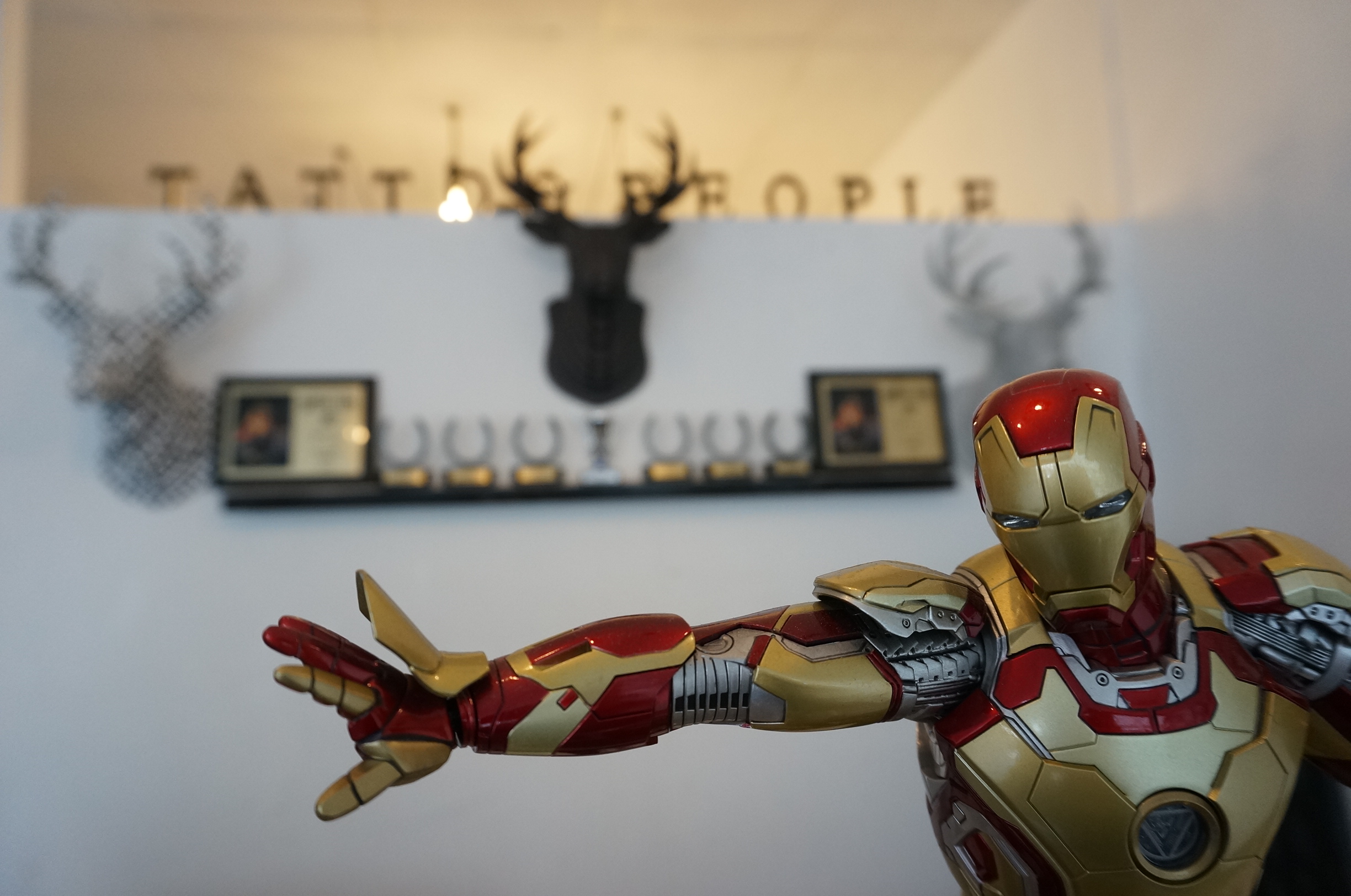 Our resident artists have diverse backgrounds and unique styles and specialties including Asian, black and grey, realism, watercolour, anime-inspired and fine line work. We're a family of artists brought together by a shared passion for tattooing art. We enjoy hosting guest artists from around the world, so keep an out eye for these touring talents! Use the contact form, call or stop by the shop to set up an appointment.
Khan J
The founder of Tattoo People, Khan was born and raised in Busan, South Korea. His focus is on Asian and Buddhist inspired pieces. He enjoys using bright, bold colours for large scale pieces and bringing in a lot of patterns and detail. He has won numerous awards and participated in tattoo conventions around the world. His two daughters, Ara and Maru, are his proudest accomplishments to date. He also loves deep-sea fishing!
g.no
Beginning her career as an apprentice at Tattoo People in Busan, G.No is happy to now call Toronto home. She has become the master of watercolour tattoos, bringing her original paintings to life on skin. Holding degrees in jewellery design and colour-mixing, G.No has a diverse arts background and enjoys many creative processes. It may take some patience to get an appointment, but is well worth the wait!
andre munoz
A native of Medellin, Colombia, Andre relocated to Toronto in his late teens and fell in love with tattooing and the variety of opportunities it has given him. He enjoys many styles but his focus is on realism and lately, has been growing his portfolio of wildlife tattoos. He enjoys drumming and can talk music for a full 8 hour session, only if you're up for it.
Hailey Lee
Hailey's journey started about 6 years ago when she came to Canada to learn English and later studied in illustration in Sheridan. She enjoyed designing illustrative style of work as a designer. She says herself that she is cool and we agree, adding that she's pretty darn talented.
YUSUN K
Yusun first joined the Tattoo People family in 2016 as an apprentice. A fashion design graduate from Ryerson University, but she has always loved illustration and using colors which naturally drew her to tattooing. If you haven't noticed - she loves drawing hands. Also you'll hear her cackle laugh from miles away.
KELLY
Having a knack for illustration, Kelly is an artist with a passion for intricate designs. As an experienced illustrator and OCAD graduate, Kelly has been drawing and painting since she could first hold a pencil. She loves designing custom tattoos and has a special love for floral and fauna themes. When she is not tattooing, Kelly is designing and drawing the next piece. She's also fluent in Mandarin!
NIKI P
Niki owns a zoo at her place. Even at work, she loves to tattoo animals. She also looks like a hamster, eats like a hamster and breathes like a hamster. You can hear her sneeze 3 times or more, consecutively like a hamster too. Come witness this magical creature!
address
1077 Bathurst Street
Toronto, ON, M5R 3G8
(647) 850-5977
hours
Mon-fri 12pm-8pm
Sat 12PM-7PM
SUN
12pm-5pm